7 Reasons Why Dentist Should Focus on Digital Marketing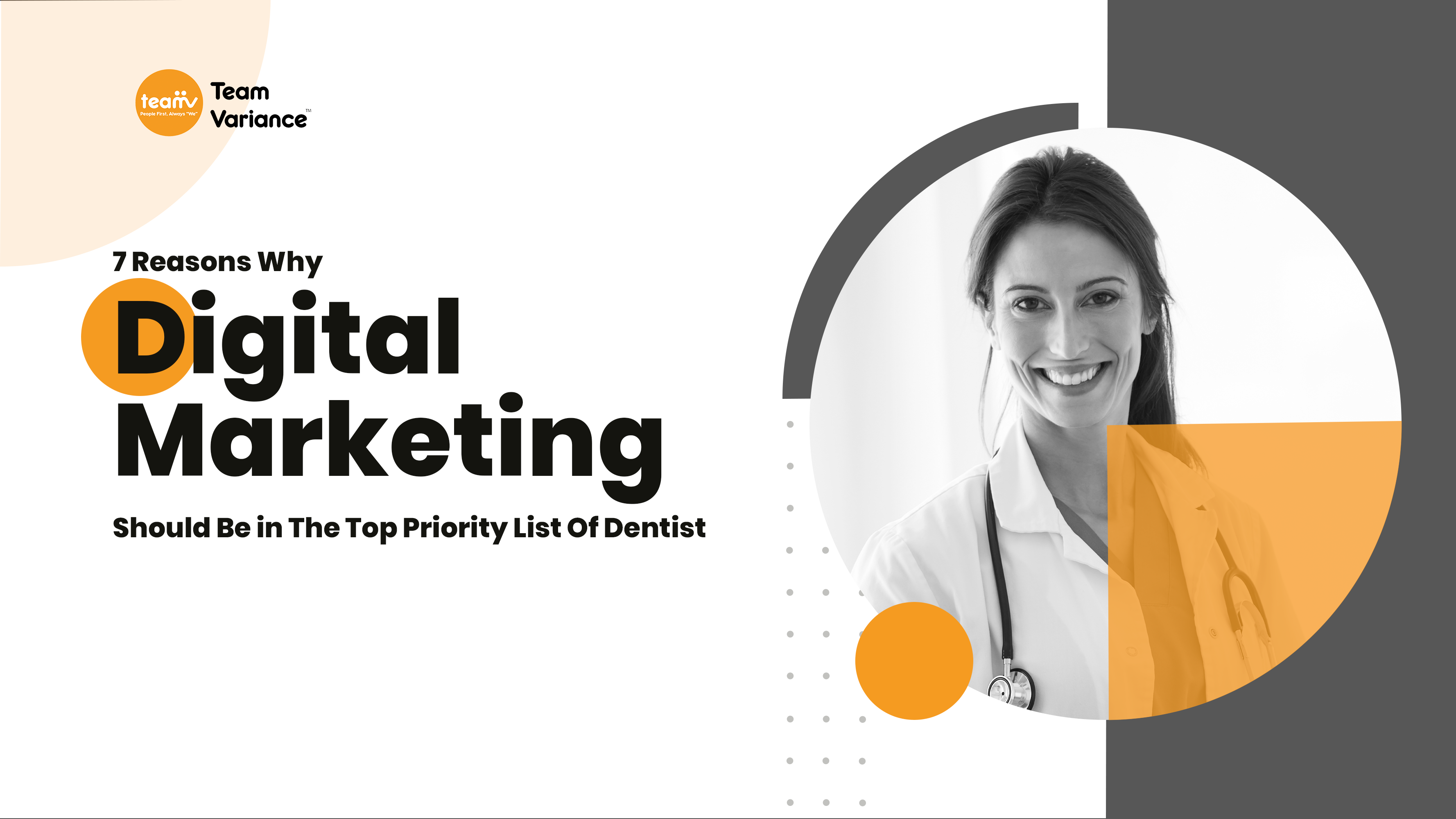 Most of the dental practices require an average of 50 patients per month to keep up the competitors and grow further.
It's important to use dental marketing strategies to reach out to higher quality and quantity of the crowd who might be interested in investing in your business.
In the present scenario, people have more trust on the online reviews and ratings provided by other patients than word of mouth, so if the dental marketing prospects are not digital, it's time to go a step up in the game.
Dental digital marketing allows dentists to reach out to patients through various search engines, social media, Email, etc.
Researches have shown that about 97% of the consumers prefer to search for any business online, and about 30% don't consider companies that have an online presence.
Now you must have got an answer to your question, why online marketing for dentists is essential? There are several benefits of online marketing for dentists.
Benefits Of Online Digital Marketing For Dentists
1. Promotes Inbound Marketing
When it comes to dental marketing, two primary marketing categories include inbound marketing and outbound marketing. Best dental marketing services prefer the inbound strategy, as this is the process of engaging potential patients with your unique content about your practice.
At the same time, outbound marketing requires you to seek out potential customers and come into competition with other methods.
Outbound marketing gives away messages to a broader audience who may or may not be interested in investing in your services. Inbound marketing is rather magnetic; it draws in the best prospects for your practice who are actively looking online for solutions.
2. Consumers Prefer To Be Contacted Through Email Rather Than Direct Mail
Email is one of the most significant dental marketing strategies. Since it is the patient's preferred method of communication, it is better to stick to it, visiting dental services can be a scary experience for several patients.
Email helps to create a safe and comfortable environment and establish trust, which makes a significant difference in the choices they make.
It allows you to connect with the current and potential patients and send helpful information that shows that you care about the interests of the patients.
Marketing to dentists is all about bringing in more clients to their practice, which can be easily acquired by email marketing.
3. Online Marketing is Highly Inexpensive
Any dental practice regardless of its size, can gain advantage through digital marketing as it helps to reach out the targeted audience, connect with prospects and converts more of them into customers.
Everything starting from Facebook marketing to search engine optimization is the work of the online marketing services who provide several dental marketing services that are useful for your practice.
The main reason why digital dental marketing is less expensive is that they are only interested in reaching out to people who intend to invest in your services; this is what is called inbound marketing.
When you are resorting to outbound marketing such as an ad on a magazine, or a billboard or maybe on the television you can never be sure whether the people are interested or how many have viewed the ads and are ready to make a purchase. You are just wasting your money on the wrong crowd.
4. The Success Rates can Be Easily Measured.
Online marketing services for dentists suggest that marketing to dentists can be easier if the practice uses digital marketing rather than traditional marketing.
Traditional marketing can be very tricky as there can be no real way to find out how many people are viewing the ads and how many are ready to invest in the business.
Instead, digital marketing is easy to monitor as you can get graphs and statics of the website traffic that will help you know about the people who have visited your page, their referral source and the device from which they have accessed your site.
5. Helps To Adjust The Ongoing campaigns With The Help Of Real-Time Results
The secret of having an effective dental practice is to find the tactics that work the best to attract customers, finding the right tactics can be a tedious job.
Still, digital marketing helps to keep track of all the campaigns, and results that are helpful to see the progress and work accordingly.
Since the online-based initiatives, which include Email and various social media campaigns, are relatively easier to handle and adjust, any necessary changes can be made immediately according to the requirements of the business.
In contrast, it is much more challenging to make changes according to the needs when working with traditional techniques such as a television or a billboard. These would require you to change the campaign from top to bottom completely.
The online marketing campaigns have trackable metrics that is one of the most significant benefits as you can set up analytics on google or any other search engine to see what are the strategies that are driving the most people to your business and are thus suggested by the best dental marketing services.
6. Helps To Separate Your Targeted Audience
Why online marketing for dentists? Well, the answer is simple; it helps to identify the ideal patient base. The easiest way to pull in the more useful crowd is to check out the most trending pages related to your services; these can be picked out by checking blogs, websites and social media accounts.
When you are sure about the type of content people are choosing to read and share on their social media account it becomes relatively easy to carve a unique and engaging content to attract more people to your site.
According to recent studies, dental digital marketing is the best way to pull in the right crowd towards your practice. So go ahead and update those outdated techniques and increase the excellent traffic on your page.
It is also useful in helping you get more recommendations and keep a positive track record, as you can save a track of all the reviews provided by the customers and tackle with the negative thoughts and repair the damage caused to your practice.
Online marketing is exceptionally targeted. Getting in front of patients can be very challenging at times with traditional techniques such as a television or a radio or maybe a billboard as you generally end up wasting money on viewers and listeners who are not interested in investing in your product or service.
Related: Build Brand Awareness Of Your Clinic Among Patients
7. Online Marketing Comes With Proven Dental Marketing Strategies That Help To Grow The Dental Practice
The most important benefit of dental marketing for the practice is that it provides proven results for the clients that are very useful when you are trying to sketch out the profit rate for your business.
Finding a marketing strategy that works can take up a lot of time and resources and only the best service providers sketch out all the main methods that are proven to be helpful for similar services.
These typically include the following-
We provide you with a thorough investigation of all the digital marketing efforts made by you and evaluate the performance of all the practices, strategies and ads produced to give you an understanding of where your loopholes exist and so that you can rise above your fiercest competitors.
Website Build And Overhaul
It's essential to build a website that is both unique and attractive. At some points of time, the website might need a complete makeover due to the changes in tactics required to bring in more clients; this is known as website overhaul.
Search Engine Optimization
SEO is essential to attract more clients to your page; this includes keywords and hyperlinking your website so that your site will be present in the top results when people are searching for similar products or services.
To complement your SEO strategies, you can use google ads to target your patients who require your services. Google ads is a paid platform where you get paid for every click on your ad. It helps to increase traffic and also practice visits.
As you must be aware that 7 out of 10 members these days are found to spend most of their time on social media, be it Facebook, Instagram or Twitter. Connecting social media accounts with your practice helps to build a brand, increase sales and drive website traffic.
Digital Marketing Can Help You Get Dental Results
Executing digital marketing for dental services is not a very easy job; one needs to have the knowledge, be dedicated, have consistency and be competitive regarding rival practices.
Online Marketing for dentists helps the service to be successful. It is essential to commit more time to hire the best and the most professional services which will help you create unique content and market them successfully so that you have more significant useful traffic on your page.