Case Study
Increased 40% Organic Traffic for H & R Block
No 1
On 37 Keywords
240 %
New User
Growth
About
H & R Block
H&R Block Inc. is an American tax preparation company operating in Canada, the United States and Australia. The Company operates around 12,000 retail tax offices worldwide. It offers online tax preparation and electronic filing from their website.
Challenge
To establish as Industry Leader
When technology expands increasing efficiencies and reducing human intervention it takes businesses to a new level. H&R Block wanted to educate their audience about "Free DIY" methods based upon their cutting edge technology for "Online Assisted Tax Filing" for taxpayers.
The aim was to Increase brand awareness among the target audience with a functional understanding of the digital world. Since the website was just two years old with an unorganized user experience and low SEO score, it was hard to attain traffic and visibility on digital platforms.
Taxation being a sensitive topic data security was a big concern as Taxpayers avoid disclosing sensitive data to new players. They trust Government websites, and this was the behaviour that required a change.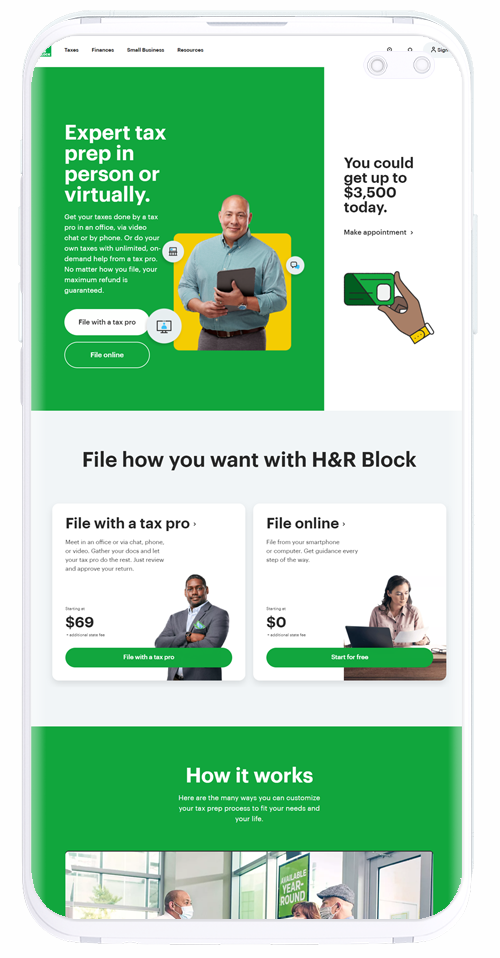 Solutions:
How we solved it ?
We decided to improvise website design to ensure a smooth and effective user experience while maintaining excellent User Interface. We highlighted key elements and content in the web pages, restructuring the navigation buttons to ensure a good rank across search engines through these SEO strategies.
Image optimization
Content optimization
Sitemap creation
Page Tagging
Google analytics integration
Backlink Creation
Keyword optimization & management
Consumer education was focussed upon by building content to create awareness, leveraging high performing keywords, and a performance-driven SEO strategy.
Results:
Executive Summarry
Our end-to-end solution created extraordinary results, and we ranked the website on 1st page of google with the most searched keywords. We recorded a 269% Increase in organic traffic during the campaign period with our 37 Keywords out of 56 selected ranking on the First Page of Google. We registered 77% unique visitors on the website in a year with a 240% growth in new users. Our education series content, created a significant impact on consumer behaviour. We recorded a substantial rise in online tax filling taxpayers through our platform and 40% of them found us organically filing their taxes through our website.
Loved it? Get this in your inbox.
See how companies just like yours are growing with Team Variance